I know you all have been anxiously anticipating the unveiling of our family's homemade Christmas stockings, I know I have!
I do fear that I may have built them up maybe more than they should be...but here goes nothing!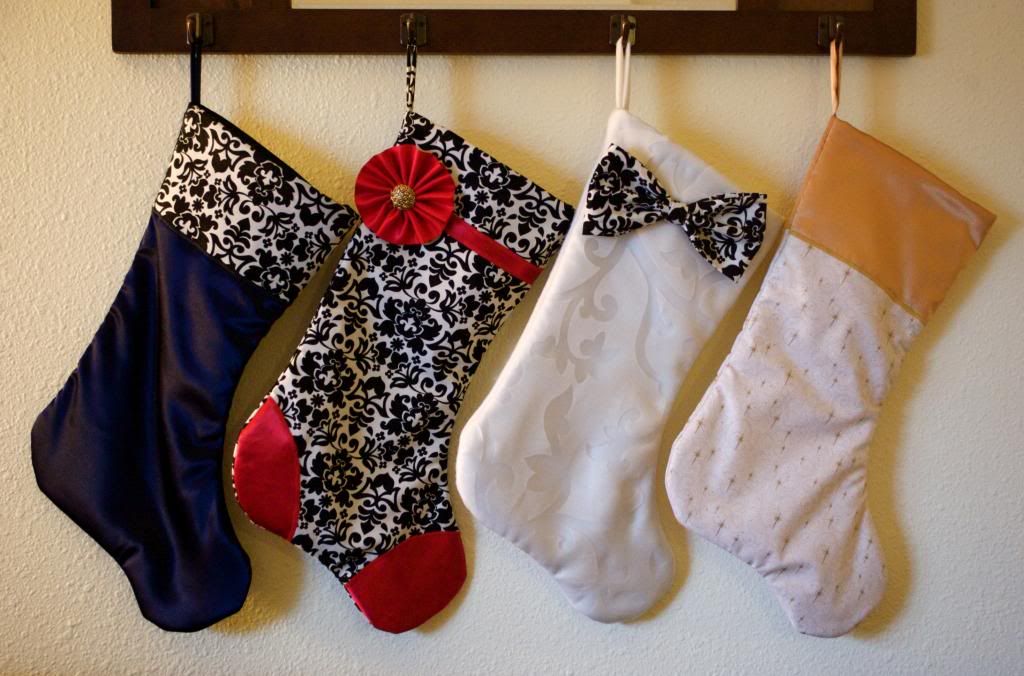 The pictures are definitely a bit wanting in their...greatness...but let me tell you a bit more about these stockings. The blue one on the left is Nick's, the one with the red is mine, the one with the bow is Alexa's, and the last one that looks terribly out of place is Jesus'. The one for The Sneetch is still floating around in my head, hopefully soon to be an actual physical stocking, although I'm debating making a girly one and a boyish one or just a neutral one. My brain has definitely been stretched a bit on this project.
Each of the stockings (aside from Jesus') have three things in common: their shape, that patterned fabric which also matches our homemade tree skirt that I put together last year (pictures to come), and the guiding hand of my friend Lorayne. She's the angel who painstakingly responded to panicked calls/texts/emails when things seemed impossibly desperate and I needed a wise and experienced hand to hold my metaphorical one as I learned how to sew and do this project at the same time. I love her so much -- she is a saint!
Here are some details:
Nick's stocking
is a fake, but still very elegant, satin fabric. I want our stockings to reflect something that the person would pick out for themselves (as best as I can make them anyway), so I wanted Nick's to be (a) blue, (b) simple/not too cutesy, and (c) classy. His cuff is just appliqued to the front of the stocking, and his was probably the easiest to make.
My stocking is, I admit, my favorite, and was the first one I did with Lorayne watching my every move. I knew what I wanted from the moment I got the fabric, so this was the easiest to plan out and execute. The red details are just appliqued to the front using the same method as Nick's stocking, aside from the rosette and the button which are very delicately hot glued to the stocking. Awesome, I know!
Alexa's stocking is an off-white fleece with a beautiful clearance sheer overlay fabric on the front. Hers is the one I'm least satisfied with because I feel like the bow looks out of place and I don't really know what to do about it. I'd add tails if I knew how to make them look like they were attached to the bow and didn't think they would cover the sheer fabric's pattern too much. Oh well, I've got time to think about it still.
Jesus' stocking was actually originally Alexa's stocking, but when it was mostly done I couldn't figure out a way to incorporate the patterned fabric into it. So I was at a friend's house and her family had a stocking for Jesus that they could put in behaviors to change or actual gifts to give to others each year as a gift to Jesus. I loved that idea and almost immediately realized that was the solution! This stocking will probably not hang over the fireplace with care with the rest of the stockings, but instead in some special place where we can remember the true meaning of Christmas easier.
So there they are! To maintain their niceness I'm unfortunately going to have to be a little Nazi-ish with our kids and their grubby little fingers as these can't go through the wash. Nick told me that his mom would line the interior of their stockings with bread bags and then the kids could pull out their bags and return their stockings safely/cleanly to their hanging spot. We'll definitely be doing that!
When I make The Sneetch's stocking I think I'll take pictures along the way to show you how I made them and make a little tutorial post. It's probably nothing groundbreaking, but maybe helpful if this is something you'd like to do! Merry Christmas!